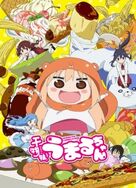 Himouto! Umaru-chan
(
うまるちゃん) 
​is a
manga
written by Sankaku Head. An
anime
adaptation is currently being produced by Doga Kobo, and is licensed by Sentai Filmworks in America. The first episode was released on July 9th, 2015 in Japan.
Episode List
Edit
Season 1 Episodes
Number #
Name
Original Air-date
Episode 1
Umaru and Onii-chan

うまるとお兄ちゃん, Umaru to Onii-chan

July 9th, 2015

Episode 2

Umaru and Ebina-chan

うまると海老名ちゃん, Umaru to Ebina-chan

July 16th, 2015

Episode 3

Umaru and Her Student

うまると弟子, Umaru to Deshi

July 23rd, 2015

Episode 4

Umaru and Her Rival

うまるとライバル, Umaru to Raibaru

August 5th, 2015
Episode 5
Umaru and Summer Vacation

うまると夏休み, Umaru to Natsuyasumi

August 6th, 2015
Episode 6
Umaru's Birthday

うまるの誕生日, Umaru no Tanjōbi

August 13th, 2015
Episode 7
Umaru's Onii-chan

うまるのお兄ちゃん, Umaru no Onii-chan

August 20th, 2015
Episode 8
Umaru, Christmas and the New Year

うまるとクリスマスと新年, Umaru to Kurisumasu to Shin'nen

August 27th, 2015
Episode 9
Umaru and Valentine's

うまるとバレンタイン, Umaru to Barentain

September 3rd, 2015
Episode 10
Umaru and Now and Once Upon a Time
September 10th, 2015
Episode 11
Umaru's Dayうまるの日々, Umaru no Hibi
September 17th, 2015
Episode 12
Umaru and Everyoneうまるとみんな, Umaru to Minna
September 24th, 2015
Ad blocker interference detected!
Wikia is a free-to-use site that makes money from advertising. We have a modified experience for viewers using ad blockers

Wikia is not accessible if you've made further modifications. Remove the custom ad blocker rule(s) and the page will load as expected.